When I woke up on Sunday the first thing I did was check the forecast. Perhaps the weather had made a miraculous u-turn during the night and London was now going to be covered in thick cloud throughout the day. Unfortunately the screen showed sun and 20 plus degrees all day, but as this was something completely out of my control, I did my best to not think about it. I got my kit together and made my way to the start line in Greenwich Park.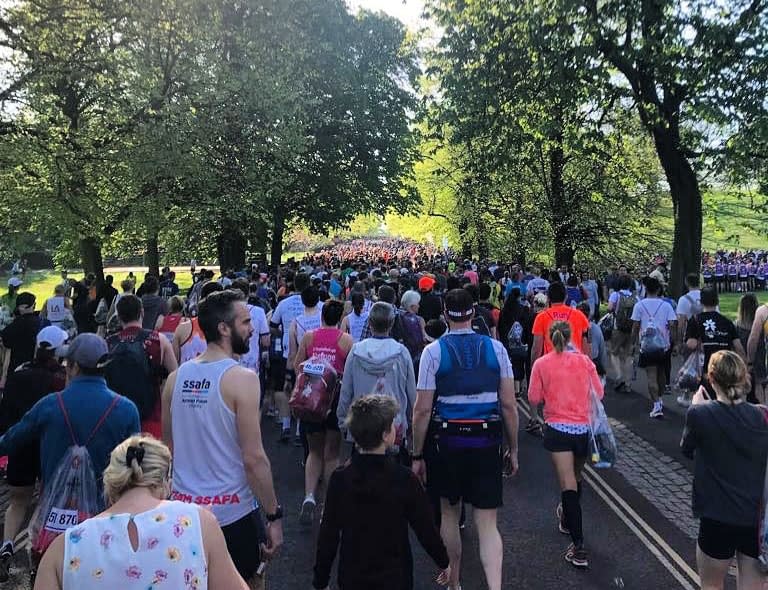 As we all congregated in the starting pens, you could tell there was a little tension in the air as the sun was beating down and no-one really knew what the next hours would bring. I found a densely occupied bit of shade and waited nervously for the gun to go off.
As is typical when you're feeling fresh and adrenaline is flowing, the first few miles flew by and I was on pace as Greenwich and the Cutty Sark appeared in the distance. This is one of the liveliest spots on the course, and the heat seemed unimportant as we all passed thousands upon thousands of spectators screaming our names and willing us on. This is what you run a major city marathon for right?!
This feeling of comfort did not last much longer. Having run several marathons in the past, my experience is that people begin to fatigue as they approach the later miles, and hitting the 20 mile 'wall' is well documented. However it was becoming clear from the demeanour and body language of many runners, that things were going to be very different today!
By half way there were already lots of people walking and as the temperatures continued to increase, you sensed that everyone was internally pleading for the next water station or cold shower to emerge. It was around the 8 mile point that I knew I personally had to be sensible. My initial goal simply wasn't going to happen and I had to adapt and slow down accordingly. Time to knuckle down!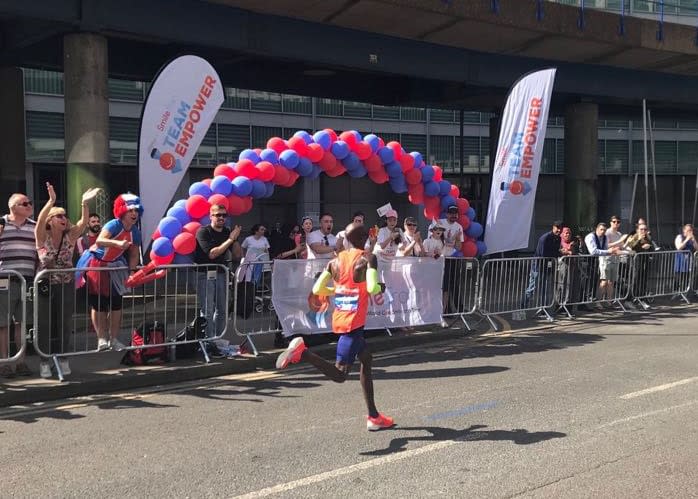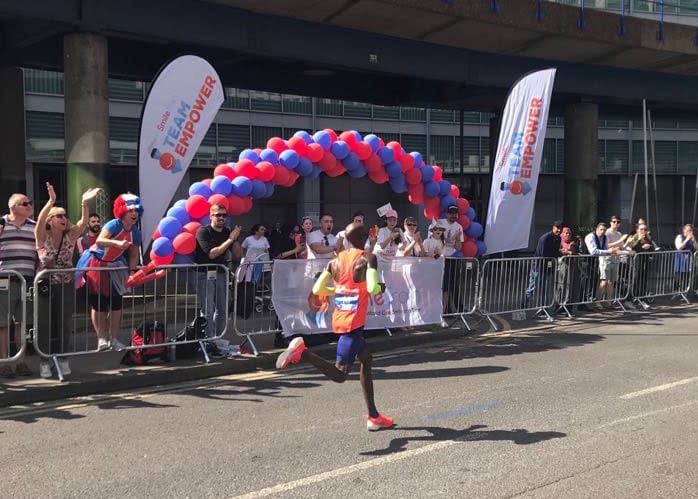 The highlight of my day and a big boost at the time came just after mile 13. I'd just run off of Tower Bridge and if you're not aware, this is the part of the course where runners pass each other on different sides of the road. As I was making my way east towards Canary Wharf, I crossed the 4 or 5 leading male athletes who were at the mile 22 point and heading back towards central London. Just 5 metres away was Mo Farah, a big hero of mine for many years, in full flight. As a self confessed running geek, I pretty much stopped concentrating on anything I was doing and just stared in awe at these unbelievable athletes until they were gone (which they were… very quickly). My excitement was short lived as the business end of the race approached and my legs were becoming more and more fatigued with each stride.
Unfortunately the wheels started to come off around the 18 mile mark. The heat was simply too much and from this point onwards I barely looked at my pace. Without wanting to sound dramatic, I've never felt as rough as I did between miles 19-23. It was literally a case of keeping the legs moving whatever the speed, and chipping away at the miles, one by one. I had a stern word with myself, gritted my teeth and went into survival mode. Time interests had gone out of the window and the main concern was now getting to the end.  I think it's fair to say that many people were in the same boat.
As I made my way towards Embankment I knew the end was near and this came as a massive boost and relief. The legs started to feel better and the pace increased for the final push. The crowds on this stretch, as they had been around the entire route, were absolutely incredible! I felt mixed emotions at the end of the race. There was some disappointment that I'd trained hard for 4 months and fallen short of my time goal by half an hour. But at the same time, it was the toughest conditions I'd ever run in and on reflection I'm delighted that I got round.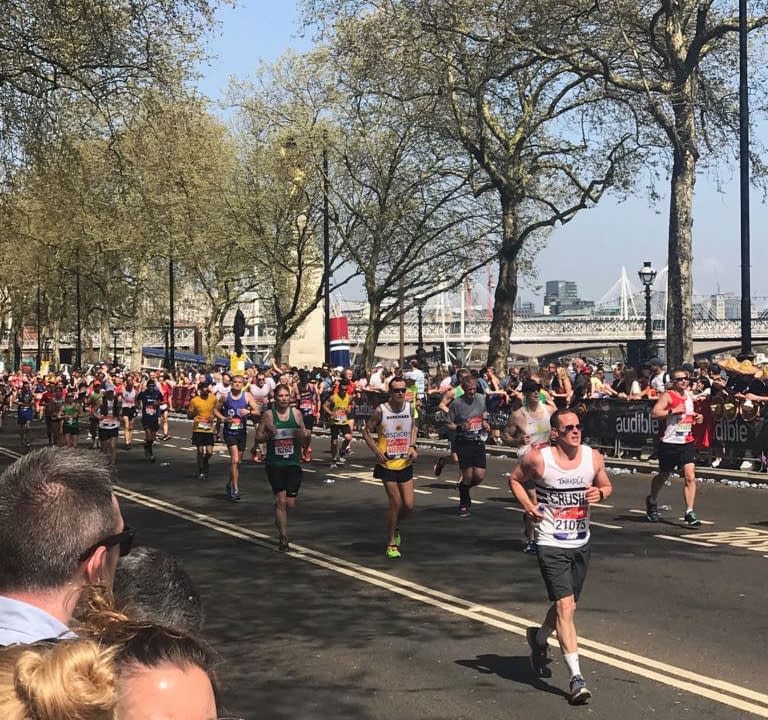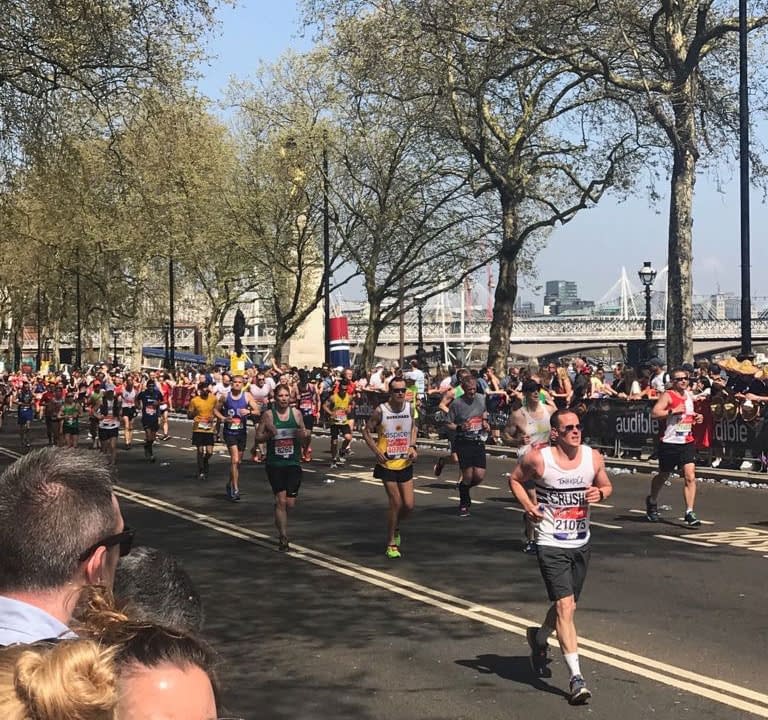 Very sadly not everyone completed the VMLM on the 22nd. I saw several runners passed out and receiving medical treatment along the way and it was later reported that over 100 athletes were admitted to hospital. Tragically, there was also a fatality as Matt Campbell, an extremely talented chef from Cumbria, collapsed and died less than 4 miles from the end.
A friend of mine ran his first marathon that day and texted me on the monday. Like many, he struggled massively and as a result was questioning whether he's cut out for that distance and perhaps that should be his last race. The fact is that the weather was a freak occurrence, a one off, that drained energy out of everyone running that day. I told him he definitely shouldn't be deterred and that he'd most likely never run in conditions like that again.
Today I'm going to send him this link so he can enter the ballot for next year's race (this closes at 5pm on Friday 4th May). If you're reading this and you're thinking about doing it, I'd say go for it. It's an incredible day and I'm pretty sure (although I can't promise) it'll be little cooler next year!